We are honored to announce that we had the first edition of the Xray Partner Awards, created to acknowledge outstanding achievements from across our global partner ecosystem and highlight those who have succeeded brilliantly and went above and beyond during the previous year to help teams test early, often and together.
The Xray Partner Awards 2022 winners are an elite set of Solution Partners who have shown exceptional expertise, high collaboration, performance excellence and dedication to our customers. We can't wait to see what they will achieve in 2023.
Winners of the Xray 2022 Partner Awards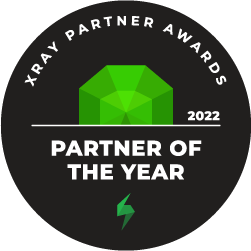 Partner of the Year: Swarmit
Swarmit is a Swiss Atlassian Platinum Solution Partner with project management know-how. Their consultants and Atlassian experts combine their experience in project management and test management with technical skills. Test automation within state-of-the-art DevOps pipelines is one of their core disciplines.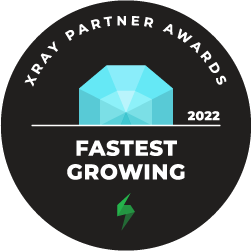 Fastest Growing: Trundl
Trundl is a Platinum Atlassian Solution Partner, with in-depth Atlassian deployment experience with customers such as Medtronic, Nissan, and UNICEF. Trundl brings not only experienced Atlassian engineers and developers, but also Solution Architects who were former product managers, scrum masters, and process engineers who are solid change management partners.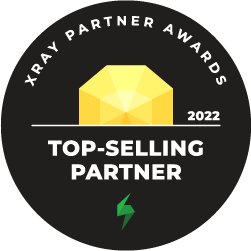 Top-Selling Partner: Valiantys
Valiantys is the leading global consulting and services firm dedicated to Atlassian. They accelerate business transformation by digitizing processes and modernizing teamwork, using the best Agile methods and tools. Their Atlassian technical expertise is unparalleled, and they support their customers across the entire spectrum of their projects on those platforms.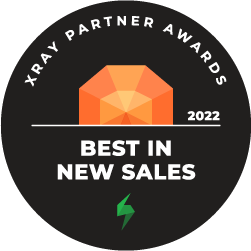 Best in New Sales: Kreuzwerker
Kreuzwerker is a digital technology company that migrate, accelerate, network, and make everything more agile and smooth. They plan and implement digital technologies, which make companies wildly more successful beyond these technologies. They're experts in the Cloud, bootstrapping, ideation & innovation, managed applications and enterprise service management, the digital workplace, cruise ships and everything - but absolutely everything - Atlassian.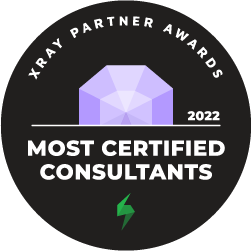 Most Certified Consultants: Transition Technologies
Transition Technologies PSC belongs to the Transition Technologies Capital Group which was established in 1991 and has been continuously expanding since then. Today they employ almost 2000 experts who develop and create state-of-the-art solutions for businesses. They provide services in areas such as Augmented Reality, PLM, IoT, Cloud, and Atlassian solutions.
Looking to empower your teams and enhance your existing testing practices?
Make the most of Xray and reach your quality goals with the help of Xray Partners. Our accredited experts worldwide can support you with license management, migration, integration, advanced local-language consultancy, training services, customized solutions, and more.
Interested in becoming an Xray Partner?
Find out more about our Partner Program here. Join our Xray Partner Program and let's work better together.